It's been such a busy time for me, I've managed to allow my dear blog to fall into a state of advanced neglect. But no longer! =)
First thing's first...yes there will be lots of exciting new things coming to Tiny Cravings very soon. Yey, it's about time, right? I bet some of you were starting to think I've lost my creative flair? =P (ok...maybe temporarily)
So what's coming??
I'm getting ready for fall early this year! That's right...I said it...Fall! I know it's barely summer and all that, but I'm discovering that the more time I prepare, the better the season. So very very soon (as soon as I get the photoshoot done)...I am going to put up some **absolutely gorgeous** handmade crocheted cupcake scarves!!!
Here's a teeny tiny special early bird taste...
The best part...these will be entirely custom made, just for you. So, like everything else on my website...you get to design your own! I'm excited. =)
Along with the adorable new scarves will come matching hats, handbags, and other items that you'll be able to purchase in matching sets. I'm working with some absolutely wonderful and talented young ladies who will be filling all your custom scarf orders, and I've even got a wonderful new clay artist who will be helping me with your custom clay orders so that I can get them out to you much faster. (introductions to these wonderful ladies coming soon)
I've got many more things on the way...but I don't want to overload anyone just yet. But here's a tiny peak at the newest handmade scented roses & thorns lockets. Completely custom made for each and every customer. These are available now on my website.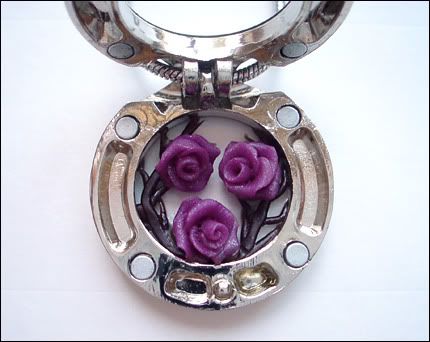 Cheers!
Jeanine
Tiny Cravings Jewelry
www.tinycravings.com